When traveling Amtrak Long Distance with a plan to get photos out the back of the train there are a number of irritations that can interfere with this plan. Your train might not be configured with a real facing window, the last cars could be non-revenue, it could be dark or raining out, a member of the crew might take it upon themselves to ruin your day, but perhaps the most annoying is when some plutocrat attaches their rolling museum onto the back of the train without any advance warning.
On my
first trip down the RF&O and A-Line
to visit a friend in Georgia I was partially thwarted by a combination of lackluster weather and a grade crossing accident induced bustitution. This time everything was set to be perfect. Wonderful sunny weather, no derailments...but then in DC I was served up with a wonderful surprise that not only turned a fun jaunt down the eastern seaboard into a 6 hour slog, but also nixed my ability to gather more material for these photo essays you are all so fond of. Oh, and to emphasize the reason I care about these things so much, by the time I took this train again CSX had decided to replace most of the signals on the Richmond Belt line so here today, gone tomorrow.
Anyway, you can find the entire set of photos on this second attempt to take the Scenic Route to Georgia right
here in chronological order
.
We begin our trip as always at Baltimore Penn Station where the old...MARC GP40-2W #62 was hanging out on #4 track.
While the new, MP36PH-3C #15, pushed in on a train from Perryville.
As we got under way my instinct told me that this nice sunny day would make for a good oppurtunity to document some of the southern NEC and I proceeded to the rear of the train where I caught an AEM-7 double headed Regional train taking the signal at BRIDGE interlocking.
You can see some of the work being done for the new 10 car high level platforms at Halethorpe.
Here is a MARC trainset I like to call The Camel as it heads toward its stop at the BWI Airport Station. I am not sure why MARC keeps a mixed set like this in service, but it has been making the rounds for years.
Just south of Odenton is the only curve re-alignment that Amtrak ever completed on the NEC. It had been said that this one modification was required to allow the Metroliner service to claim a sub 3 hour (2'59") trip time between NY and DC. Only the two "express" tracks 2 and 3 were re-aligned with track 1 and the power transmission line supports being left on the old alignment. Here you can see the degree of the banking added to the track to allow for the highest possible speed.
Here we have an HHP-8 hauled Regional on the two track section between the Washington Terminal and LANDOVER interlocking. To the left are the brand new 25Hz transmission lines that deliver power to the new Ivy City Substation.
Old and new again in the form of 1950's vintage Pullman gallery cars and brand new VRE MP36PH-3C #V50 sitting in Ivy City Yard.
MARC split level K-Car #7847 on an outbound train at Washington's C interlocking with an outbound Red Line train over to the left.
'K' signal bridge on the approach to Union Station.
When I caught this bright orange former Milwaukee Road car sitting in the middle of the terminal approach at first I was pleased for getting a cool shot, but then I got this sinking feeling in my stomach. :-(
'J' signal bridge approaching Union Station.
Some MoW work in K interlocking with a pair of Red Line trains about to pass over on the Metro tracks.
'H' signal bridge with the Metro trains over on the left and the overhead catenary going crazy with all the trackwork.
Amtrak AEM-7 #953 is moving lite towards Ivy City yard past a Slow Clear indication on the 243 signal at K interlocking.
A lineup of 5 P42 diesels waiting on one of the lower level tracks for upcoming power changes.
Yeah, at this point I knew that the rest of my trip on Train 79 was basically in the ashcan.
The private car was delivered to Train 79 by Amtrak SW1000R pup #799. The R means that it was built with the reduced clearance option for working under overhead wires.
Here we see Amtrak AX power car 2010 departing from the upper level along side lite P42 #87 on the lower level.
The private car turned out to be the former Milwaukee Road "Wisconsin", sort of the junior cousin to that Hiawatha observation car with the wrap around glazing. Anyway the car was in immaculate condition and the only occupants appeared to be a husband and wife duo, each wearing Milwaukee Road emblazoned clothing.
Anyway, then a whole lot of nothing happened all the way until Richmond where I could get out for some pictures. This car used to be a Business car for the railroad and then passed through a number of owners before being restored to this condition today. Not sure why it is equipped with ditch lights though.
At
Richmond Staples Mill Road Station
we also find former RF&P GN tower, now surviving its second round of re-signaling.
Departing Richmond we passed former RF&P AY tower and the current Acca yard office.
The James River was doing what rivers do.
Then a whole lot of nothing again until the next smoking stop at Raleigh. At least folks like
this guy
were able to get a treat from the big orange car on the back of my train. Maybe I should just post some of
their
stuff.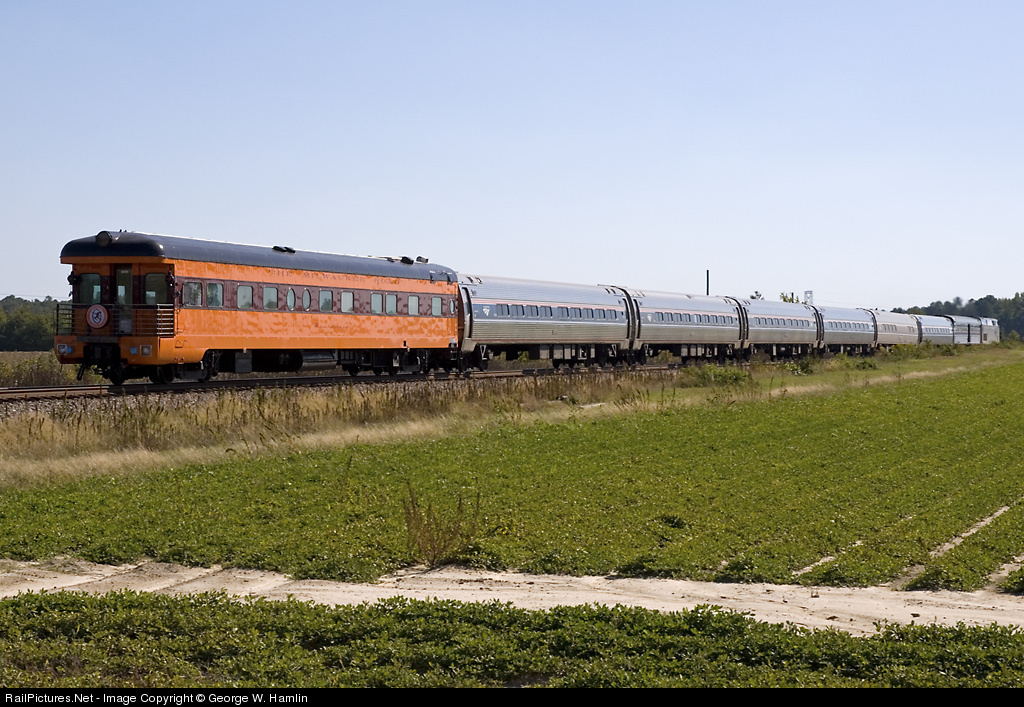 Private cars are only fun when they aren't on your train >:-O
Anyway at Raleigh I noticed that the P42 on our Train 79 was engine #79...which was appropriate. I wonder if that was planned out that way. Also Train 79 is sees very heavy travel at this station as in-state residents use it as an afternoon Piedmont service train.
Finally I was released from my prison of tediousness at Greensboro, NC. My train was only slightly late so I was able to catch Piedmont Train #76 on the opposite track en route back to Raleigh.
Here we see 79 on 79 waiting to take the Diverging Clear signal both at
ELM
and
POMONA
interlockings.
Here is a video of Engine 79 on Train 79 taking the signal at ELM and departing Greensboro with the Wisconsin on the rear bound for Charlotte. Come on, you really blew $10,000 to take your private car to Charlotte?? Really? That was the best destination you could think of??
Yeah well good riddance.
I am going to say it again how they really did a great job fixing up the Greensboro station. Both platforms are super long and well constructed.
While waiting up for Train 19, the Crescent to arrive we were first greeted by a molten sulfur train running ahead of it. With 3 C40 class road engines and about 90 cars.
Then finally Train 19 arrived with P42s 38 and 195 on point. If it was any consolidation I managed to score a window seat on this leg of the trip.
Arriving at Gainesville, GA, Train 19 had an Approach Diverging pulled up at MIDLAND interlocking.
Knocking the signal down causes the old relay logic to display Diverging Approach for a split second.
No former Conrail painted units in residence this time around. Only former Southern hi-hood Geep #3283 and low hood Geep #1646.
Well that brings us to the end of the show. Sorry it couldn't be more interesting, but them's the brakes. Next week tune in for a fun signaling tour of the CSX Abbeville Sub.